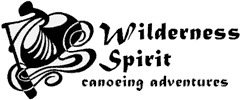 14-day Kazan River Adventure:
This trip is suitable for canoeists with some canoeing expereince
Trip Dates: July 14 to July 27, 2011. This trip is suitable for canoeists with some experience.
Pre-trip: Wilderness Spirit clients should arrive in Baker Lake, Nunavut, Canada a minimum of 1 day before your trip starts. You will be picked up at the Baker Lake Airport, transported to the hotel and receive a waterproof barrel. We'll be happy to answer any last minute questions and notify you of your departure time.
Day 1: Meet in Rankin Inlet, Nunavut Territory: Our planes will be loaded with the gear and canoes and we'll fly into the Kazan River. We'll set up camp and settle in for our first night in the northern Canadian wilderness.
Days 2-12: Wildlife Viewing, Hiking and Paddling: This trip is timed to maximize your opportunity to encounter herds of migrating caribou. They are accompanied by wolves that den along the river and are frequently seen. Dene and Inuit campsites are evident at various sites along the river some of which were occupied up to 8,000 years ago. The shaggy muskoxen are another common sight. The last few days will take you to Fall Caribou National Historic Site and Baker Lake.
Days 13-14: Baker Lake and Exploration of Inland Inuit Culture: Stay at Baker Lake Lodge and while there take tours of the area. There are numerous Inuit artists in Baker Lake and the opportunity to meet with them and view their talents should not be missed. Maybe try to learn some Inuktitut, try your hand fishing with the kakivak, the long Inuit fishing spear or just soak in this rare culture.
In North America call tollfree 1 866 287 1591 or 1 204 452 7049
or email info@WildernessSpirit.com
Wilderness Spirit, 696 McMillan Ave., Winnipeg,
Manitoba, Canada R3M 0V1
Wir Sprechen Auch Deutsch