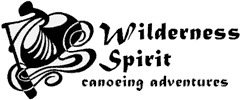 8 day Bloodvein River Trip - Detailed Itinerary
Trip Dates: July 5 to July 12, August 18 to 25 and September 5 to September 12, 2011. Suitable for beginners and more experienced canoeists as all rapids are easily portaged.
Pre-trip: Wilderness Spirit clients should arrive in Winnipeg, Manitoba, Canada a minimum of 1 day before your trip starts. Wilderness Spirit will deliver your waterproof barrel to your hotel the day you arrive. We'll be happy to answer any last minute questions and notify you of your departure time. Hotel guests will be able to leave suitcases or backpacks at the hotel free of charge.
Day 1: Float Plane Transportation to River: Wilderness Spirit will pick guests up at their hotel and drive from Winnipeg to the float plane base and fly into Artery Lake via float plane. Stay at Artery Lake on the first night so you can see one of western Canada's best pictograph sites.
Days 2-6: Canoeing: Your journey on one of Canada's premier Heritage Rivers starts with a chance to learn or practice some whitewater paddling skills and whitewater safety. The Bloodvein River flows through rugged terrain, through deep gorges and appears barely trodden.
Days 7-13: Canoeing: Paddle past ancient pink granite cliffs, find out how the river got it name, see pictographs painted hundreds of years ago, and camp at the most spectacular campsites that you can imagine. The unmistakable illustration of a moose signals the near completion of your fantastic journey on the Bloodvein River.
Day 14: First Nations Sweat Lodge Ceremony: A sweat lodge ceremony will begin shortly after you arrive at the Bloodvein River First Nations community. You will have a chance to chat with your hosts as they prepare for the ceremony and describe what will take place. Enter the lodge and be treated to a ceremony that few outside people take part in. After the ceremony, which lasts from two to three hours, a feast will be served. The incredible traditions of the first nations peoples are opened slightly for your understanding and participation.
Day 15: Ferry Across the Seventh Largest Canadian Lake: Take a ferry from Bloodvein River First Nation across Lake Winnipeg and return to Winnipeg. Arrive at your hotel approximately 6:00pm.
In North America call tollfree 1 866 287 1591 or 1 204 452 7049
or email info@WildernessSpirit.com
Wilderness Spirit, 696 McMillan Ave., Winnipeg,
Manitoba, Canada R3M 0V1
Wir Sprechen Auch Deutsch