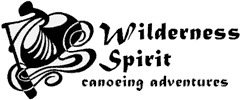 14 day Hayes River Trip - Detailed Itinerary
Trip Date: July 21 to August 3, 2011. Suitable for beginners and more experienced canoeists as all rapids are easily portaged.
Pre-trip: Wilderness Spirit clients should arrive in Winnipeg, Manitoba, Canada a minimum of 1 day before your trip starts. Wilderness Spirit will deliver your waterproof barrel to your hotel the day you arrive. We'll be happy to answer any last minute questions and notify you of your departure time. Hotel guests will be able to leave suitcases or backpacks at the hotel free of charge.
Day 1: Transportation to Hayes River: Wilderness Spirit will pick guests up at their hotel and drive to Winnipeg International Airport and fly to Oxford House to start the trip down the Historic Hayes River and designated Canadian Heritage River. There will be a safety talk and practice some whitewater paddling skills.
Days 2-4: Paddling Knife Rapids and Knee Lake: Day two starts with Knife Rapids followed by some flatwater paddling to Trout Falls, one of the few portages on the Hayes. After visiting a pictograph site on Knee Lake, paddle past Magnetite island and past an ancient aboriginal camp and chipping sites.
Days 5-7: Paddling Through History: There are many rapids along this stretch of river. They range from class 1-3 with some easier routes along the edges. Wolves are commonly heard and sometimes seen along this stretch of river. If you need to stretch your legs, the hike to the top of Brassey Hill (highest spot in NE Manitoba) is challenging. The last significant rapid is at Whitemud Falls.
Days 8-10: Paddling from Forest to Hudson Bay Lowlands: Paddlers are now dwarfed by 30-meter clay/silt cliffs cut into the glacial deposits of the Hudson Bay Lowlands. Fossil remains can be easily found within these banks. The Hayes now flows uninterrupted on its path to Hudson Bay.
Days 11-13: The Approach To York Factory: Harbour seals sun themselves along the river banks of this section. Reach York Factory (National Heritage Site) and stay at the rustic Silver Goose Lodge hosted by the York Landing First Nation. Visit the remaining buildings and, with luck, see a polar bear.
Day 14: Return to Winnipeg: An airplane will pick you up at the York Factory airstrip in the morning and fly you back to Oxford House where you will meet your plane to return to Winnipeg, Manitoba and your hotel.
In North America call tollfree 1 866 287 1591 or 1 204 452 7049
or email info@WildernessSpirit.com
Wilderness Spirit, 696 McMillan Ave., Winnipeg,
Manitoba, Canada R3M 0V1
Wir Sprechen Auch Deutsch