Wilderness Spirit's Guides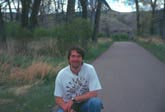 Rob Currie is one of Wilderness Spirit Adventures' three partners. He has been paddling Manitoba's waterways for over 13 years and hold certifications as a Wilderness First Responder and as a Swiftwater rescue technician. His passion is extended wilderness canoeing trips. Rob has traveled in Europe, India and Mexico but the remote Canadian wilderness remains his favourite place. Rob recently acted as guide and river rescue and safety manager for History Television's series Quest for the Bay. He spent 60 days boating over 1200 km from southern Manitoba to Hudson Bay along the historical Hayes River system.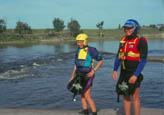 Mark Loewen has been paddling for over 13 years. He holds certifications as a Wilderness First Responder, Swiftwater Rescue Technician, Whitewater Instructor and Lifeguard. Mark has spent a lot of time in Asia but the Canadian Wilderness draws him back every time. Mark loves the thrill of whitewater paddling but also enjoys his down time along the sometimes lazy routes of our canoe trips.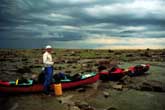 Bruno Rosenberg has been paddling for over 25 years now but you won't find many pictures of him as he prefers to spend his time behind the lens capturing magnificent images on film. Bruno has also spent a fair amount of time in Asia and Europe but recently has focused on canoeing in Manitoba. He also holds certifications as a Wilderness First Responder and Swiftwater Rescue technician.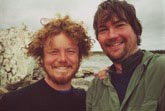 They may not look pretty after a couple of weeks on the river but our guides will provide you with a comfortable, enchanting canoe trip that you will remember for the rest of your life. Food with an international flavour, safety features such as satellite phones and top quality equipment are your guarantee. Wilderness Spirit is affiliated with Travel Manitoba, Nunavut Tourism, Canadian Tourism Commission, Wilderness Medical Associates, Rescue 3 International and Paddling Manitoba. Our trips are advertised and sold around the world.
In North America call tollfree 1 866 287 1591 or 1 204 452 7049
or email info@WildernessSpirit.com
Wilderness Spirit, 696 McMillan Ave., Winnipeg,
Manitoba, Canada R3M 0V1
Wir Sprechen Auch Deutsch