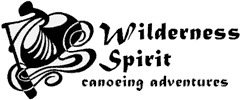 7 Day Pigeon River Expedition - Detailed Itinerary
Trip Date: June 14 to June 20, 2011. This trip requires some paddling experience.
Pre-trip: Wilderness Spirit clients should arrive in Winnipeg, Manitoba, Canada a minimum of 1 day before your trip starts. Wilderness Spirit will deliver your waterproof barrel to your hotel the day you arrive. We'll be happy to answer any last minute questions and notify you of your departure time. Hotel guests will be able to leave suitcases or backpacks at the hotel free of charge.
Day 1: Float Plane Transportation to River: Wilderness Spirit will pick guests up at their hotel, drive from Winnipeg to the float plane base and fly into the Pigeon River via float plane.
Days 2-6: Adrenaline Through Canoeing: Wilderness Spirit guests begin their trip with necessary canoe instruction and a river safety talk. The Pigeon River flows through a rugged, remote Precambrian Shield landscape. The rapids are usually class 2-4 (with many big water class 3). A 40-kilometer long "canyon" contains over 30 rapids that have been compared with Colorado's best whitewater rivers. Rapids culminate in a roller coaster ride on large standing waves at the end of the rapids. Bears, moose and an abundance of baldheaded eagles and golden eagles make this river trip an absolute delight.
Day 7: Transport Back to Winnipeg: A float plane will pick us up on the river and fly us to our vehicles. We'll drive back to Winnipeg that evening.
In North America call tollfree 1 866 287 1591 or 1 204 452 7049
or email info@WildernessSpirit.com
Wilderness Spirit, 696 McMillan Ave., Winnipeg,
Manitoba, Canada R3M 0V1
Wir Sprechen Auch Deutsch