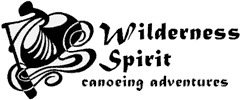 14 day Seal River Trip - Detailed Itinerary
Trip Date: August 11 to August 24, 2011. This trip is suitable for canoeists with some canoeing experience.
Pre-trip: Wilderness Spirit clients should arrive in Winnipeg, Manitoba, Canada a minimum of 1 day before your trip starts. Wilderness Spirit will deliver your waterproof barrel to your hotel the day you arrive. We'll be happy to answer any last minute questions and notify you of your departure time. Hotel guests will be able to leave suitcases or backpacks at the hotel free of charge.
Days 1: Transportation to Seal River: Your Wilderness Spirit guide will pick you up at your hotel to drive to Winnipeg International Airport and you will fly to Tadoule Lake and start your trip.
Days 2-9: Paddling and Hiking: The first two days of paddling take you through Tadoule and Shethanei Lakes. Once you enter the Seal River, you will notice the strong current of the Seal River and likely see your first harbour seal on the river! Paddle past huge eskers, wander through islands, past 30-meter gneiss walls, remarkable granite and sedimentary rock formations and go hiking along the eskers in the evenings. Native artifacts have been found along many parts of the Seal River, you will see birch bark rolls, possibly some arrowheads, hammers and chipping sites where some of these tools were made! Continuing downstream the northern boreal forest fades, and trees become progressively smaller and scarce. Heath and tundra vegetation begin to dominate as you enter the sub-arctic transition zone of the "Land of Little Sticks".
Days 10-11: Paddling and Polar Bear Sightings: Numerous tundra islands, with dropped caribou antlers scatter the widening river. These last few days are the start of Polar Bear Country. However, they are rarely seen until you reach Deaf Rapids, the last rapid of the Seal River. The river's tidal estuary is a mesmerizing maze of islands and rocks. You have some time to explore and photograph the maze of wildflowers, sedges and boulders that adorn the Bays shoreline. Commonly seen are polar bears, beluga whales, seals, and many shore birds, migratory birds along this shoreline and colorful wildflowers.
Days 12-13: Transport to Churchill, Manitoba and Beluga Whale Watching: On the last full day on the Seal River, stay on the Hudson Bay shore and go on a hike to view the wildflowers and incredible shoreline views. You will be transported to Churchill by boat and to a hotel with hot showers and cold drinks! While in Churchill, clients will be treated to a boat tour of the Churchill River estuary, home to thousands of white beluga whales and hundreds of seals and other marine mammals.
Days 13-14: Train and Plane from Churchill to Winnipeg: Return to Thompson from Churchill via the Polar Bear Express (train) and catch your plane back to Winnipeg where you will arrive back at the hotel at approximately 6:00 pm.
In North America call tollfree 1 866 287 1591 or 1 204 452 7049
or email info@WildernessSpirit.com
Wilderness Spirit, 696 McMillan Ave., Winnipeg,
Manitoba, Canada R3M 0V1
Wir Sprechen Auch Deutsch