"WOW! I just wanted to drop you a line and let you know what a great trip we had! I still can't believe how great it was - it qualifies as one of the most fun and exciting things I have ever done!" Sandra Philips, Canada

4 day trips in Manitoba

Manigotagan River

The Manigotagan River received its name many years ago when some hunters calling game were answered by an old bull moose with what they thought was a bad throat. Since that time the river has been called Manigotagan, meaning "bad throat". Paddle quiet, picturesque stretches of water that snake through boreal and deciduous forests. The silence is punctuated by the sound of fast water as we approach the spectacular rapids and falls that dot the river.
This trip is ideal for those who want to experience the peace and beauty of a Canadian Shield river but have restricted time. Those with limited canoeing experience can develop their skills with easy portages around all obstructions.
Trip duration: 4-days
Cost: $650 Canadian plus 5% GST
Dates: June 24 - 27 and July 15 - 18, 2011. We can also customize a trip for your group.
Skill level: Beginners and up
Assiniboine River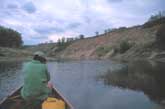 A classic prairie river, the Assiniboine meanders almost 850 km from the Manitoba/ Saskatchewan border to it's confluence with the Red River in Winnipeg. You can paddle downstream from one to three days, floating past the sites of old Hudson Bay and North West Company trading posts, past southern Manitoba's only remaining cable ferry and entering Manitoba's Spirit Sands Desert and Spruce Woods Provincial Park.The Assiniboine River, southern Manitoba's prairie hideaway, will surprise you with it's beauty and majesty.
Trip duration: 1 to 3 days
Cost: $135/day/person
Departure: This trip is available as a custom trip only. Please contact us to discuss your interests.
Skill level: Suitable for families and all skill levels.
Flatwater Paddling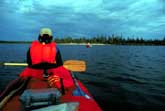 If whitewater/river paddling is not what you have in mind for a summer holiday you may want to join us on a beautiful Canadian Shield Lake system. We will glide past ancient rock outcrops as we paddle crystal clear lakes to some of the Canadian Shield's most scenic spots. These quietwater trips are ideal for families of all ages and abilities.
Trip duration: 4 days
Cost: $540 Canadian
Departure: Flatwater trips will be arranged on a customized basis. Please contact us to discuss your interests.
Skill level: Suitable for families and any skill level.
In North America call tollfree 1 866 287 1591 or 1 204 452 7049
or email info@WildernessSpirit.com
Wilderness Spirit, 696 McMillan Ave., Winnipeg,
Manitoba, Canada R3M 0V1
Wir Sprechen Auch Deutsch